4-H Avian Bowl Competition
The NC Avian Bowl will start at 2:00 p.m., on July 20, 2018.  The contest will be held at the NC Poultry Teaching Unit 3801 Inwood Road. Registration will close on July 6. For additional information please contact Richard Goforth at richard_goforth@ncsu.edu.

The National 4-H Avian Bowl Manual is the reference manual for the NC Avian Bowl contest. One (1) manual can be obtained from Becca Wysocky rlbarne2@ncsu.edu for the coach of each team. Additional copies are available from Clemson University, Bulletin Room – Room 82, 96 Poole Agricultural Bldg., Clemson, SC 29634-0129. $15.00 per copy. Make checks payable to Clemson University.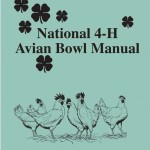 The following sections and pages have been selected as study materials for the 2016 National 4-H Poultry & Egg Conference. Please note the avian bowl manual was revised in 2016.

THE 2018 STUDY PACKET:
All questions and answers will come from the following material in the 2016 version of the Avian Bowl Manual:
Raising waterfowl (Natural incubation and brooding through Exhibiting waterfowl – Pages 31-33
Avian systems (Only Respiratory and Digstive – Pages 41-42
Small turkey flock management (All) – Pages 45-54
Breeds, varieties and strains (Mediterranean and Continential only) – Pages 75-78
Eggcylopedia (Cooking equipment through History) – Pages 113-130
Biosecurity (partial) – Page 179
General care of a pet bird – Pages 163-166
Embryology (Brooding through Glossary) – Pages 193-195
Note: The above study material came from the National 4-H Avian Bowl Manual revised in 2016.
Clemson University, Bulletin Room – Room 82
96 Poole Agricultural Center
Clemson, SC 29634-0129
(864) 656-3261 (phone); (864-656-0742 (fax); Attn: Mick Smith
Make checks payable to Clemson University
https://secure.touchnet.net/C20569_ustores/web/product_detail.jsp?PRODUCTID=1587
You can also see the rules and study guide at:  http://www2.ca.uky.edu/national4hpoultry/AvianBowl.html
---